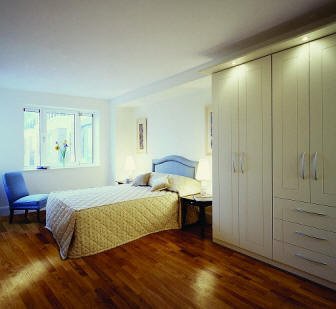 ● When interior designing your bedrooms, make sure the rooms are cozy and restful in appearance. Avoid bright colors like orange. Bright colors won't induce you to sleep. Neutral, pastel and warm colors are best suited for bedrooms.
● If you are starting your interiors from scratch, you can start by choosing fabrics first and base the color of you wall from it, then you can select furniture that compliments the color of walls and the fabrics that you are going to use.
● Save on expensive wall decor, go through magazines, art books or even your child's art work at school and have the picture framed. Not only will you save, you will have a unique picture that is not found on commercial home decor stores.
● Consider an extra cabinet or storage space inside your bedroom or den, they are areas that usually invite clutter. It is important to always have your room neat and clutter free.
● Use warm flooring on bedroom floors like wood and carpet. Don't use ceramic tiles, marble or granite on bedroom floors. It is not pleasant to get out of bed in the morning and step on a cold floor. If a cold flooring material is already installed, put an area rug beside the bed.